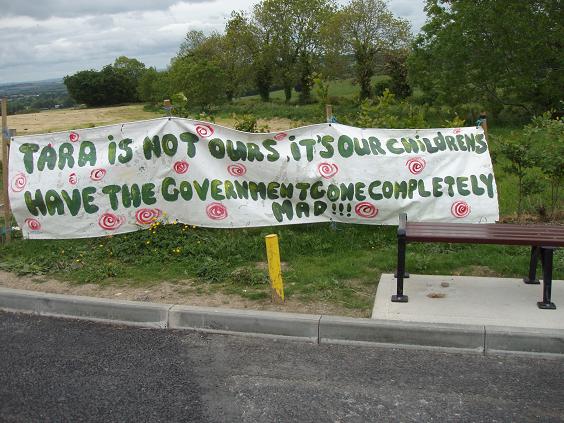 Emma who is a member of the Green Party of Ireland sent me this on Tara. Thanks Emma...sadly other members of her party still seem to be living in the age of stupid on this issue...I will try not to digress into a long rant about DeValera and Joschka Fischer at this point!

Mythology and history: Tara Hill and Valley are part of an ancient temple complex of earthworks, henges, raths (forts), and souterrains (underground tomb chambers). Many of the works pre-date the Egyptian pyramids. Tara was used as the crowning place of the old High Kings of Ireland. It is still in use for ceremonies today, and is particularly associated with Samhain (Halloween).
The Irish government have sanctioned a route through the Tara Valley for the building of the M3 motorway, which is now in progress. Many ancient monuments have already been destroyed. Many more new and unusual findings dug up during the excavation of the land for the motorway are stored in black plastic bags in warehouses. Such ancient artefacts dug up include human bones from old graves.
Most tragic of all is the threat to the Mound of the Sages on Rath Lugh, which is at the foot of the Hill of Tara. The motorway, which was to be twenty metres away from Rath Lugh, is actually only five metres away due to an error by the National Roads Authority (NRA). It is only a matter of time before the Mound of the Sages becomes unstable and starts to slide. This instability will occur because of the traffic on the motorway.
Please do what you can to help us to get this destructive motorway halted so that the entire M3 project can be reviewed and some kind of environmentally acceptable and heritage friendly compromise can be negotiated.
More information available on the Save Tara message boards:
http://groups.yahoo.com/group/savetara/messages