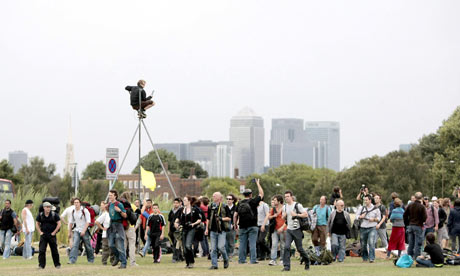 its like Henry sixth, the rebels are at Blackheath and Greenwich...the climate camp has swoopped.
I am guessing the mystery band will be radiohead....
I am at camp over the weekend and monday.
I salute the camp, most of the policy for dealing with climate change is irrelevent and useless, based on fraudulent forms of carbon trading, they have a good hold on the politics of this and some realistic ideas for solutions.
They can mobilise thousandst of people for change, their organisation is excellent, the camps I have been on have been little slices of utopia.
So do go along and see what you think...it will be quality honest.
The happy campers sent me this...gracias amigoes!
Film footage of the swoop and other camp activities are available at the dedicated online TV site:
www.climatecamp.tv
- all films can be embedded and it would be awesome if you could share some of he footage with your readers. A number of embed codes can be found here:
http://climatecamp.tv/getting-involved
There's also a blog of latest action updates at the Climate Camp website:
http://climatecamp.org.uk/blog