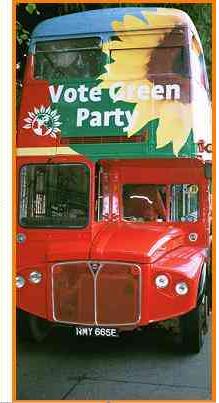 Its an election year, so lets get serious, this is an appeal letter I have sent on a purely personal basis to Green Party branches in the South East of England. I might cheekily suggest you adapt and use for other organisations to boost support for Caroline. We can win but elections don't win themselves, its people on the ground putting in work.

If everyone who supports Caroline just did one session, we would be there.
Dear Adrian,
I am writing to South East Green Party contacts to appeal for support for Caroline Lucas. There is an excellent chance that she will win in Brighton Pavillion according to the
latest opinion poll
however it is going to get tough as we get closer to the General Election.
I think if enough Greens go down to Brighton and leaflet and canvass Caroline can win.
Much of my political effort goes into support for indigenous people in Peru who use non violent direct action to prevent the Amazon from been taken away from them by oil companies (
http://www.independent.co.uk/news/world/americas/defending-the-defenceless-perus-most-wanted-refuses-to-be-silenced-1775232.html
).
Electing a Green MP to Westminister would make it more difficult for the British government to support countries like Peru who are involved in land seizures from indigenous people and rainforest destruction. On this issue along I think it is vital to elect Caroline and of course, on a host of issues from trade union rights to climate change she has a fantastic record as an MEP.
I am a Green Party parliamentary candidate but I try to get down to Brighton to canvass as much as possible. Indeed I will be joining former Labour Party MEP Hugh Kerr who I have persuaded to canvass for Caroline on 16th January.
Its very easy to help, election work will be going on pretty much all the time for now on. The Green Party office is in the Eco centre right next to the train station in Brighton. Click on the link and arrange to go and help at least once between now and the General Election
http://www.carolinelucas.com/cl/get_involved.html

I would appreciate it if you could let local members of your party know about Caroline's campaign, we are all of course busy with our own election efforts but if we all went down to Brighton just once it would help.
Do consider
1. Mailing or phoning the campaign team and arranging to go down to help.
2. Appealling directly to local members via email or by phone to help.
3. Organizing a local party away day to help in Brighton, for example, members of my local Party in East Berkshire will be going down on 30th January.
4. Publishing an appeal for help in your local party newsletter and/or website.
Happy New Year and please support me in my New Year's resolution to elect Caroline,
Derek Wall,
Green Party Parliamentary Candidate Windsor.