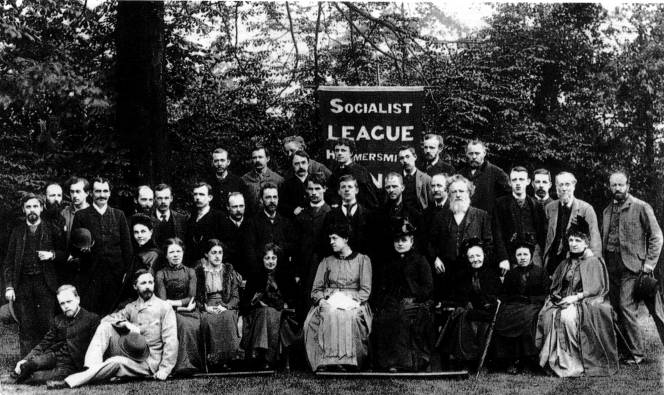 As Principal Male Speaker of the Green Party I recognise the enormous debt that Greens have to William Morris, a great thinker and artist who campaigned for environmental and social justice, it is vitally important to save this resource
The William Morris gallery in Walthemstow is under closure threat from Waltham Forest council, he was a great artist and green thinker, a founder of the socialist movement in Britain, his legacy should be celebrated not put in the bin!
Read more from the
wiki oracle
....he had the same politics as me red and green!
this is his take on globalisation


And what is all this for? For the spread of abstract ideas of civilization, for pure benevolence, for the honour and glory of conquest? Not at all. It is for the opening of freshmarkets to take in all the fresh profit-producing wealth which is growing greater and greater every day; in other words, to make fresh opportunities for waste; the waste of our labour and our lives.
from 1896! see
here
for more
here is some more on the campaign
16 Days Left to Save the Gallery
The Council have set an Official Consultation period to review the cuts,
reduced opening hours and redundancies. This will end on April 13th please
can we have one last push of support from everyone to the council before
this time.
If you haven't writtin to the Council yet, please do so.
If you haven't heard back from the Council, please read the complaints
procedure below.
Please mail friends, neighbours and colleagues and urge them to sign the
petition.
Thank you all so much for your support so far. The Council has received
thousands of letters.
-----
Local & National/International Mailing List
We are dividing the mailing list into 2 strands – local and
national/international in order to target local events only to the
relevant people – whilst keeping everyone up to date with news.
If you want to be moved to the national/international mailing list –
please reply with 'national/international' in the subject line.
-----
Council Not Replying to Your letters
It has come to our attention that many of you, who have spent time and
effort writing to the Council, have to receive a response. The Council is
duty bound to reply to you. There is a complaints procedure which involves
sending an email outlining your concerns about the lack of communication,
you should then receive a response from the Councillors concerned.
Please fill out the online form here:
https://www1.walthamforest.gov.uk/webforms/complaints/default.aspx
-----
Saturday's Party
Against a bitter wind, constant threat of rain and closure of Walthamstow
Central Station hundred's gathered at William Morris Gallery on Saturday
24 March.
The event saw a tremendous coming together of people in protest and
celebration. The William Morris Gallery was festooned with artworks,
poetry, placards and banners. From a small stage people volunteered to
read the words of Morris, others read their poems, Ros Kane led the
assembly in singing Leon Rosselson's wonderful News from Nowhere. A group
of traditional musicians came from the local folk club and fiddle tunes
danced on the wind.
See the website (www.keepourmuseumsopen.org.uk) for more details.
-----
Online Petition Reaches over 3000 Signatures
The online petition has reach over 3000 signatures so far, if you haven't
already signed and sent on to friends and colleagues, please visit:
www.petitiononline.com/savewmg
-----
This email has been sent from http://www.keepourmuseumsopen.org.uk