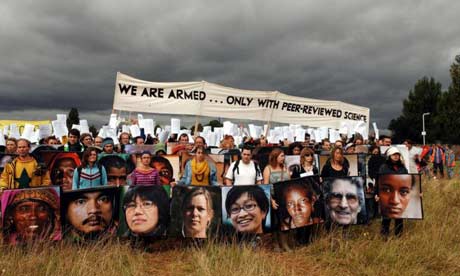 Protest today
Well the protesters are marching on the BAA offices, good for them, everyone else talks green they do something. Good stuff, politics is about opening up more space for this not about personal power, very very impressive.
This was posted on the Guardian 39 minutes ago:
Protestors leave the Camp for Climate Action in Sipson near Heathrow Airport for their day of action
Anti-airport expansion protesters kicked off 24 hours of direct action with a midday march to the proposed third runway at Heathrow to form a human chain.
Two separate marches set off from the Camp for Climate Action outside the airport's perimeter fence, as local Harlington residents joined campaigners who have spent almost a week at the camp.
Campaigners oppose Heathrow's planned expansion because, they say, it will contribute to climate change.
Around six hundred people set off to mark out the 3km stretch of land set aside for the runway, while a separate march led by children headed off for Sipson village – also part of the proposed development site.
A third airport runway would see many homes within Sipson, close to the makeshift camp, bulldozed for the airport expansion.
Children blowing whistles joined face-painted activists banging drums and holding aloft multi-coloured umbrellas decorated with streamers. Banners carried slogans such as "You Fly, They Die", "Climate Change Kills" and "No Third Runway: Sipson Village RIP".
The Guardian's John Vidal, who was at the scene, said the children's march had not got very far before being stopped by police.
One mother pushing her two-year-old daughter and six-year-old son in a pram said she was taking part because she feared people were destroying her children's future with demands for air travel.
Calling herself Lisa, the mother said: "Climate change affects them more than it affects me so I'm doing this for my children."
Another large group waited at the camp before setting off to lay siege to airport operators BAA's nearby headquarters.
Graham Martin, one of the Heathrow Camp for Climate Action organisers, said today's direct action would be "safe and non violent" though not necessarily lawful. He said: "We are very optimistic there will not be any significant violence during the course of the day. If police stop protesters going outside the BAA offices, campaigners may go elsewhere."
Yesterday, up to six arrests were made after protesters locked themselves to the gates of an Israeli firm which flies produce to the UK.
A 22-year-old man was later arrested outside the protest site on suspicion of harassment and causing actual bodily harm. And a 28-year-old man was arrested late last night, initially under anti-terrorism legislation. He was later released but rearrested on suspicion of conspiracy to cause criminal damage.
Today's march began with only a few minor scuffles as police officers ringed the protesters during their procession.
Organisers have complained at the "overkill tactics" of officers policing the area. "We have had police pointing cameras at us almost continuously," said Mr Martin. "They are very much using overkill tactics, and making it difficult to get on and off site."
The Metropolitan police said today's marches were being "appropriately policed", with around 1800 officers on duty.
A police van led several hundred protesters in a slow march from their camp down to Sipson village, part of the site for the controversial third runway.
On Saturday, airline pilots asked protesters to take part in "peace talks" over climate change issues.
The British Airline Pilots' Association said "an informed debate" about climate change would be better than the campaigners embarking on any action. Protesters said they would be willing to have talks after the camp was over.
Airport operator BAA recently obtained a High Court injunction banning certain protest groups from the airport.
A fifth terminal will open at Heathrow in March 2008 and a new runway has been proposed by the government for about 2020.