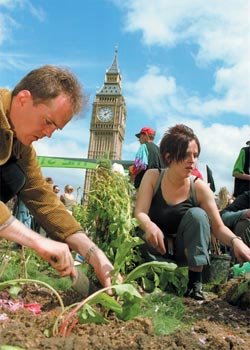 Maria rang me at approximately 12.15pm today Friday 17th August, 2007, to let Greens know that Parliament Square has been surrounded by a Security Fence. This is just the latest intimidation Brian and Maria and other Peace Protestors face.

Please do everything you can to publicise this unreasonable behaviour and ask for the eyesore fence to be removed.

Miranda Dunn
Barnet Green Party
had this 5 seconds ok, disgusting, predictable...every where the fences rise at their command.
Has any one a photo? What of Brian Haw?
A little late Dr Wall writes:
'Sian has just posted me this You can see the fence on the BBC jamcam here:
http://www.bbc.co.uk/london/content/webcams/546501.shtml