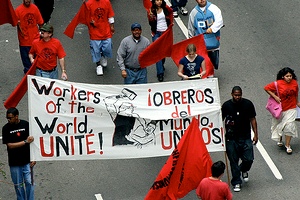 Well its very snowy, and I am reading Patricia Duncker's novel Hallucinating Foucault.
Nice title!
Didn't know this statement was out from P. Murray:
"British jobs for British workers": GPTU statement
Recession combined with globalization and the weakening of Labour laws in Europe, is providing some employers with the incentive and the means to minimize their wage costs and weaken the bargaining power of organised workers. Recently this has taken the form of subcontracting out work to firms employing workers from abroad which is being opposed by industrial action under the slogan "British jobs for British workers".
This is just the sort of situation that could be exploited by the far right and unions and politicians sharing their aims should be pushing for the restoration of nationally binding wage agreements and re-empahsising their anti-racist and internationalist policies.
British unions should follow the example of their French comrades and take united action
against the way that workers are being made to pay for a crisis which is not of their making and campaign for a concerted program aimed at constructing a ecologically sound infrastructure for a new economic and social order.
ENDS
P.Murry: Secretary GPTU
Our ecosocialist comrades in Socialist Resistance also note:


And the EU employment framework makes the situation worse. Construction, and other contractors, have been taking full advantage of the free movement of capital which the EU provides, which was always intended to facilitate the more effective exploitation of the European working class. It has encouraged employers to compete by undercutting existing wage rates and working conditions. The way the Posted Workers Directive — which covers workers in the IREM situation — has been introduced compounds the problem.

Workers have an absolute right to take strike action against such practices. In fact from the point of view of trade union principles they have an obligation to oppose such practices. This should not, however, lead workers — such as those in the current action — to attack fellow workers who are dragged into the situation. This dispute should be with the employers and governments at both national and EU level.

The slogan "British jobs for British workers" which has been dominant in every one of the protests, both verbally and visually, is the wrong way to conduct the dispute. It is a dangerous and xenophobic road to go down. No wonder the BNP are trying to muscle in with other dangerous right-wing elements. According to reports in the Independent (Sat Jan 31) the Italian workers involved have faced direct intimidation. A hostile demonstration from the Lindsey refinery assembled outside their living accommodation in Grimsby dock to tell them to "go back to Italy". This kind of action has a dangerous logic of its own.