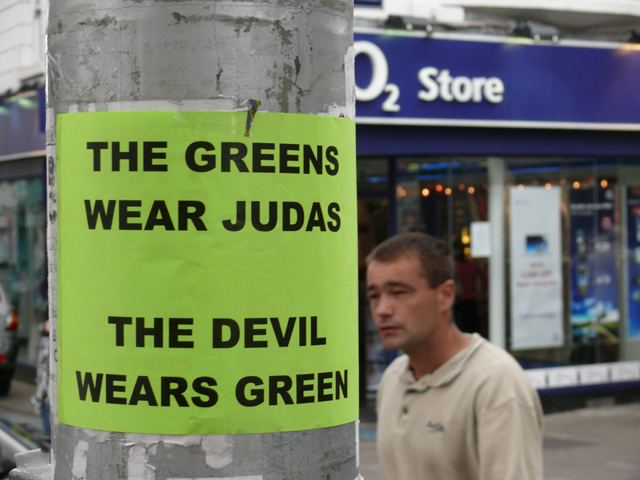 My criticism of the Irish Green Party (motorway building friends of Ireland's most corrupt political party)...has been taken up by one of their own members of parliament in Dublin.
The coalition with Fianna Fail is damaging Green politics right across Europe...please stand up for ecology, social justice and peace by getting out of the coalition.
The TD's comments are a little more radical than my thoughts though:
In an expletive-laden interview in Hot Press, the Dublin Mid West TD comments on the price of power and his own doubts about the Coalition arrangement. He describes it in terms of the Greens lying "bollix naked" and being "screwed" by Fianna Fáil.

He also says party leader John Gormley "would cut your throat if it means doing the right thing".

Mr Gogarty (40) asserts that by going into Coalition or, as he puts it, getting into bed with another party, the Greens had prostituted itself.

In the same vein, he continues: "We are lying there bollix naked next to Fianna Fáil. We have been screwed by them a few times, but we are hoping we can roll them around to get what we want, over the longer terms."
I think these comments are a bit too frank even for me but at least there are no plans to introduce nuclear power in Ireland, having said that the banking bailout is bankrupting the country and the weekend saw huge protests against the government. So I guess they could not afford it if they wanted it.
In December activists occupied his office to protest against education cuts:
Over 20 students from UCD have occupied the office of Paul Gogarty Green Party TD for Dublin Mid-West and Spokesperson on Education in Lucan Village. This is in protest at the increase in college registration fees to €1500 per year and the possible full re-introduction of fees.

The occupation is organised by the campaigning group, Free Education for Everyone (FEE), and is part of a national day of protest across the country against fees organised by FEE. Protests are also planned in Cork and Galway today.
The alternative to FF who have long been dogged by scandal and corruption is another centre right party Fianna Gael....however Sinn Fein President Gerry Adams is calling for a SF, Labour, Green Party coalition which would be more radical.
In turn Sinn Fein rule in the North with Ian Paisley's DUP has been more than a little controversial.
The Irish people will speak, perhaps more subtly than Mr Gogarty, and change will be inevitable.
Over 110,000 people demonstrated against the present coalition, a huge number for a country with just a couple of million citizens.