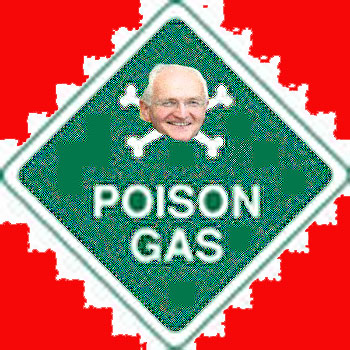 A load of hypocritical politicians from parties who support incineration such as
Fianna Fail have been criticising John Gormley for allowing the Poolbeg incinerator to go ahead
.
Like Baldrick, John Gormley had a 'cunning plan', to make it too difficult for the incinerator to make a profit.
'I am, therefore, concerned that the proposed incinerator will prove to be seriously oversized, and indeed that a liability for the ratepayer and taxpayer may ultimately arise," said Gormley.

He said that ''the most appropriate course of action'' was to appoint an authorised person under the Local Government Acts to review the project. Gormley said it was up to the council to discuss with his department ''how the project might be brought into line with the emerging reality of the waste market and waste policy''.
more here
However John Gormley has allowed the incinerator to go ahead and the incinerator corporate sponsors know that John Gormley will not be around in the future.
Hey I guess John Gormley will be fighting climate change by arguing for biofuels
Or his party will be allowing motorway construction to scar ancient landscapes.
The Irish Green Party are to green politics what the
Russian Liberal Democrats
are to liberal democracy.
I guess they will be on 'anon' saying how wonderful they are and what a naive idealist I am for suggesting that when people vote Green they do so to achieve green policies.